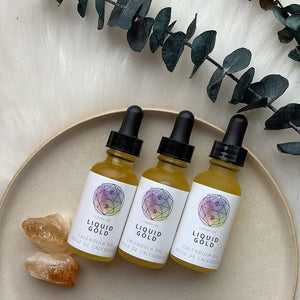 LUNAH LIFE
Liquid Gold
Regular price
Sale price
$19.00
---
Made in London
Another multi-functional product from the Lunah lineup. This baby does it all! This is a solar-infused product with calendula, known as liquid gold in the herbal world. Originally made for our precious babies skin, you guys started to use it for everything with success! It has transformed to a great facial serum, helps calm rashes, keeping skin soft and hydrated, even keeping your pets skin calm, cool and collected. The antiseptic and antimicrobial action of the oil helps speed up the reduction of wounds and minor cuts, and also helps relieve insect bites, acne, + skin issues such as eczema, psoriasis, dermatitis. Great for the little one when they have a bum rash, cradle cap or a rash from drooling.

VEGAN. NUT FREE.
Skin type: anyone experiencing upset skin
Scent Profile: unscented
HOW TO:
Create a nightly routine with baby that is relaxing. Apply when skin is still damp, that is the key when applying all oils. Massage, always in the direction of the heart. After bathing is the perfect time to apply. Or use as a facial serum, and combo with your current oils and creams. Add a couple drops and pat into damp, clean skin. If using in your hair + scalp, part the hair and apply a few drops. Massage in, let sit for up to 30 min or over night. Wash out. Safe for face and body.
INGREDIENTS:
Olea Europaea (Olive) Fruit Oil,  Prunus Armeniaca (Apricot) Kernel Oil, Caprylic/Capric Triglyceride, Simmondsia Chinensis (Jojoba) Seed Oil, Calendula Officinalis (Calendula) Flowers, Tocopherol, Citrus Grandis (Grapefruit) Seed Extract (and) Glycerin.
SHELF LIFE: 12 months
This creation is completely natural, without chemical preservatives, it is meant to be enjoyed, not stored! A date stamp on the bottom of each product marks the time it was made, please use it up accordingly.
PRODUCT CARE:
Treat this skincare like you would fresh, whole foods from the earth, they need to be cared for accordingly in order to last. To ensure that the shelf life is not compromised, avoid introducing water into the containers and handle products with clean, dry hands to prevent any contamination. Avoid direct sunlight, heat + humidity. Keep products in cool, dry spot like your hall closet or shelf. The fridge in the summertime is a great spot too!
If this is your first time using this creation, perform an allergy test before hand. Do this by applying a small amount to your forearm and waiting 24 hours to see if any irritation occurs. If you are pregnant or are breastfeeding, you may want to speak with your health care practitioner for further guidance.